To Exhibit
Message from organizers
Japan International Welding Show (JIWS) 2022 set for Tokyo, July 13 to 16, 2022!
To be held together with 2022 IIW Annual Assembly and International Conference
The Japan International Welding Show (JIWS) 2022 has been scheduled to be held in Tokyo over four days from July 13 to 16, 2022 (Wed. to Sat.) at Tokyo Big Sight.
This will mark the 27th time the JIWS has been held in its 53-year history. The event takes place every second year, alternating between Tokyo and Osaka. Throughout the years, the show has played a driving role in the welding industry by responding positively to the industry's needs and promoting innovation in various fields of technology.
Although the Osaka show scheduled for 2020 had to be cancelled due to the COVID-19 crisis, next year's Tokyo show is expected to present a variety of fresh approaches to new forms of manufacturing for the "new normal" age.
It should also be noted that the 2022 International Institute of Welding (IIW) Annual Assembly and International Conference (theme: "Innovative Welding and Joining Technologies to Achieve Carbon Neutrality and Promote Sustainable Development") will be held at the same time as the JIWS. This is an indication of the JIWS's reputation as one of the foremost international exhibitions on welding, joining, and cutting, featuring displays of products by the world's leading manufacturers and showcasing world-leading state-of-the-art technologies, all under one roof.
A "collaboration event" between the JIWS and the 2022 International Institute of Welding (IIW) Annual Assembly and International Conference is also planned, to be held within the exhibition venue.
Although applications for exhibitors opened only in late April, we have received a strong response from prospective exhibitors. Numerous companies have already applied to exhibit and the level of interest in the show is extremely high, so we are expecting this JIWS to be bigger and livelier than ever.
We hereby cordially invite you to join us at the Japan International Welding Show 2022,
Tokyo.
Atractions of the JIWS
・Showcase of leading-edge technology from around the world
・Strong end-user support
・Nearly half of all visitors are engineers
・Abundant demonstrations and exhibitions
Overseas Exhibitors Services
Visit Scheduler Service
Visit Scheduler is a service that visitors can use to schedule meetings with venue exhibitors via the official website for the purpose of business negotiations.
Please make the most of this service to promote business negotiations!
Participation tn Exhibitors Reception
Entry to Official Show Guide Book
Complimentary Tickets for Your Customers
Theme Based Mini-Seminar on Solutions
This event will give each participating Exhibitor five minutes in which they can present their products, technologies, and services to venue visitors. The program will be advertised on the official visitor website. Charges will be levied when interpretation is needed.
Download the Show Brochure and the Application form
Basic Unit Space Only
Space and Partition Panels Only
1 booth size: 3.0 m (W)× 3.0 m (D)× 2.7 m (H)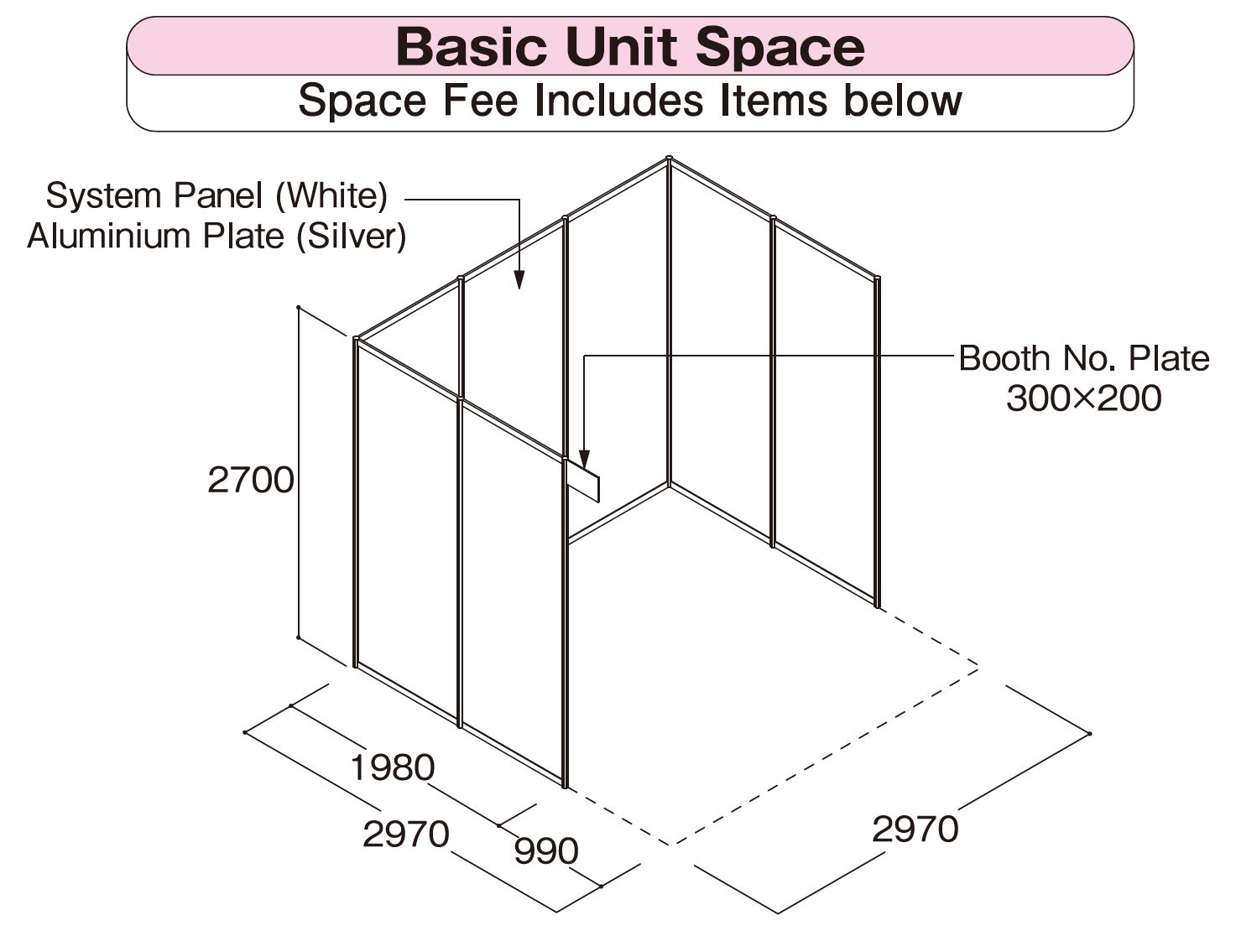 EXHIBIT FEE FOR ONE BASIC SPACE(Including consumption tax)
● Early Bird Rates (Before Dec. 24, 2021)【CLOSED】

¥330,000.-
● Standard Rates (After Dec. 25 2021)
¥352,000.-
Shell Scheme Package Booth
Ready-made booth system, named the "Shell Scheme Package Booth" is available upon request for one booth or more. This package is particularly convenient for overseas exhibitors. This system is provided with the rental space and minimum necessary facilities such as floor carpet, reception set, exhibit table, lighting facilities, power outlet, parapet, fascia for company name display and electrical primary wiring fee for 1kW (single phase/100V).
1 booth size: 3.0 m (W)× 3.0 m (D)× 2.7 m (H)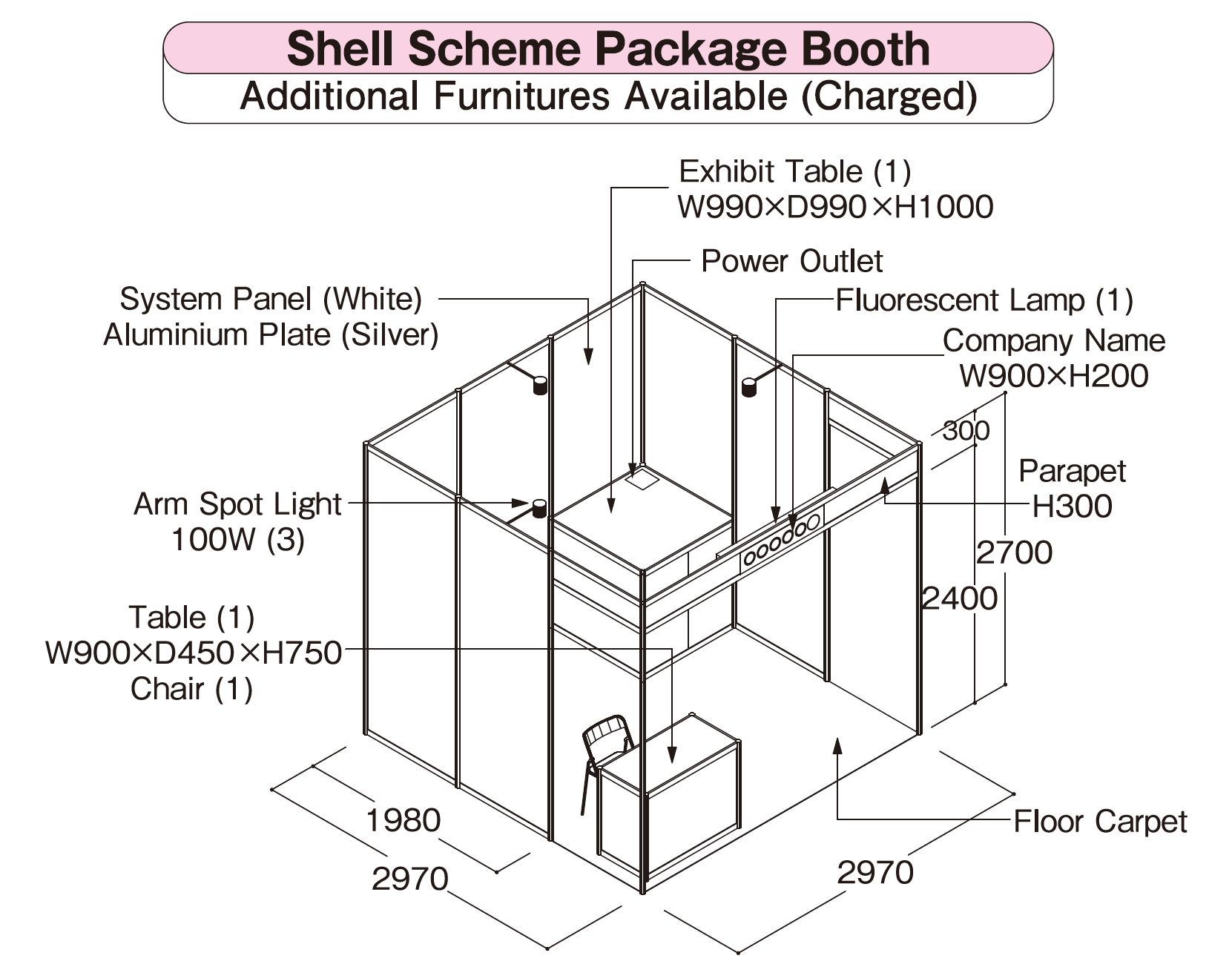 EXHIBIT FEE FOR Shell Scheme Package Booth(Including consumption tax)
●Early Bird Rates (Before Dec. 24, 2021)【CLOSED】
¥430,760.-
for one-booth
¥810,260.-
for two-booths
¥1,186,020.-
for three-booths
● Standard Rates (After Dec. 25, 2021)
¥452,760.-
for one-booth
¥854,260.-
for two-booths
¥1,252,020.-
for three-booths
*The early bird rates are applied to applicants who have registered before Dec. 24 2021.
APPLICATION
Fill out and sign in the designated application form and send it to the Management Office by mail, fax, or email.
MANAGEMENT OFFICE
SANPO PUBLICATIONS, INC.
Sanpo Sakuma Bldg.
1-11 Kanda Sakuma-cho Chiyoda-ku Tokyo 101-0025 JAPAN
TEL. 03-3258-6411 FAX. 03-3258-6430
E-mail. weldingshow@sanpo-pub.co.jp
Payment of the exhibit fee
The Management Office will mail out an invoice after receiving and approving the exhibit application form.
The exhibition booth fee is to be paid by the stated due date.
Bank transfer fees are the responsibility of the Exhibitor.
Deadline for Application
Feb. 25, 2022
Targeted Exhibits
●Arc WeldingMAG, MIG, TIG, Plasma, Self-Shield, Submerge, Electro Gas, AC, DC, Engine, Battery, Pipe Welding Machines, Gauging Machine, Welding Holder, Torch, Electrodes, Wire, Solid Wire, Flax Cored Wire, Sensor, Control system, Arc Welding Robot, Arc Welding Automation system, Quality Assurance Equipment, Anti Spatter Chemical, End-Tab, Backing, Others.
●Resistance WeldingSpot, Portable Spot, Seam, Projection, Flash, Butt Welding Machine, Resistance Welding Gun, Electrodes, Control and Quality Assurance System, Resistance Welding Robot, Resistance Welding Automation System, Others.
●Other Types of WeldingElectron Beam, Electro Slag, Stud, Friction, Ultrasonic Welding Machine, Pressure Welding Equipment, Additive Manufacturing Others.
●Laser ProcessingCO2, YAG, Excimer, Fiber, Disk Laser Processing Machine, Parts and Optics, High Pressure Gas for Laser Processing, Laser Application System, Others
●Micro ProcessingBrazing, Soldering, Micro Soldering, Micro Arc, Micro Resistance, Micro Laser Fusing, Micro Ultrasonic, Heat Pressure Joining, Wire Bonding, Control System, Inspection Equipment, Others.
●Steel FabricationMaterials for Steel Fabrication, Mechanical Cutting, Bevelling, Piercing, Shearing, Rotating Machine, Jig, Gauging Machines, Welding and Cutting, Robot, Shot Blast, CAD/CAM, Non-Destructive Inspection, Interpass Temperature Measuring Equipments, Others.
●Non-Destructive InspectionRT, UT, MT, PT, Eddy Current, X-Ray Film, AE Equipment, Materials, Developing-out Paper, Developing Automation, Material Inspection, Non-Destructive Testing Equipment, Hardness Measurement, Inspection System, Inspection, Strain Measurement Equipment, Inspection Service, Others.
●Surface ModificationThermal Spraying Equipments and Materials, Powder Build Up Spraying Equipment and Material, Cladding, Coating Machines, Others.
●Heat TreatmentHeat Treatment, PWHT, Heating, High Frequency Equipments
●CuttingCO2, Plasma, NC, Laser, Eye-Tracer, Water Jet Cutting Machine, Nesting, Easy-to-handle Automation System, Computer Soft, Others.
●Mechanical ProcessingMechanical Cutting, Bevelling, Bending Roll, Bender, Others.
●JigPositioner, Turning Roll, Manipulator, Jig, Balancer, Others.
●Safety, Hygiene, and EnvironmentalWelding Helmet, Goggle, Curtain, Working Cloth, Shoes, Mask, UV Cut Cream, Fume and Dust Collector, Environment Measurement Equipment, Others.
●Assisting DeviceAnti-Spatter Chemical, End Tab, Backing, Others.
●Factory FacilityVentilator, Dust Collector, Blast Machine, Compressor, Cleaning Machine, Vacuum Cleaner, Others.
●High Pressure GasHigh Pressure Gases, Cylinder, Container, Bulb, Pressure Regulator, Flowmeter, Mixer, Flashback Arrester, Cylinder Transporter, Cylinder Stand, Others.
●DistributionComputer System for Gas and Welding Distributor, Cylinder Management System, Others.
●ToolsGauge, Temperature Chalk, Grinding, Sanding, Cutting Wheel and Tool, Drilling Machine, Clamping Machine, Others.
●Additive Manufacturing
●Automobiles; Shipbuilding; Construction; and more.
Schedule of Events Leading Up to the Show
*Schedule is subject to change.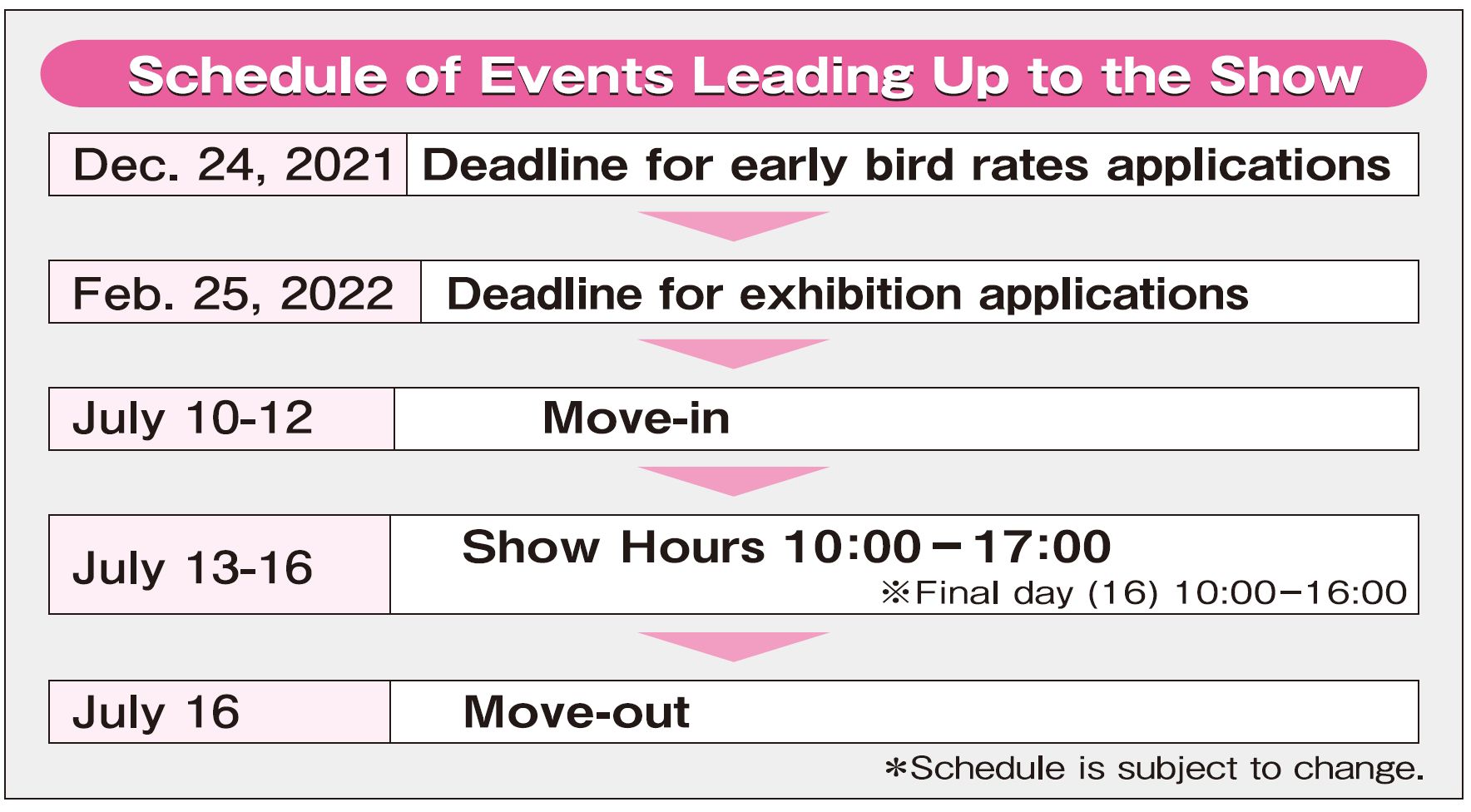 EXHIBIT AND OPERATING GUIDELINES *extract
Exhibiting Change or Cancellation (Including Partial Cancellation)
Unless the Management Office consents to it, full or partial rescission or cancellation of the Exhibitor's exhibition application shall not be recognized. If it is desired to change or cancel the Agreement, the Exhibitor must apply to the Management Office in writing and obtain approval.
If the application to exhibit is cancelled (including partial cancellation) by Friday, February 25, 2022, fifty percent (50%) of the cancelled portion will be retained as a cancellation fee. If cancelled (including partial cancellation) on or after Saturday, February 26, 2022, the full amount will be retained.
However, if the Exhibition cannot be held for compelling reasons, including a natural disaster or other force majeure (social disorder, action by governmental authority, infectious or communicable disease, public infrastructure accident, shortage of materials or resources) for which the Management Office cannot be held responsible, the Management Office has the right to cancel an exhibition application that was already received. If there is a surplus after subtracting necessary expenses from the exhibition fees that were already paid, the balance shall be returned to the Exhibitor prorated against the full application amount. The Management Office will not pay compensation for expenses and damages incurred by the Exhibitor as a result of cancellation.
Fire Suppression and Safety
The Exhibitor must comply with all laws, regulations, and guidelines concerning fire suppression and safety that apply to the venue.
Handling of Fire and Dangerous Items
・Any exhibitor intending to perform a demonstration involving the use of dangerous items or to handle naked flames must submit a notice to this effect strictly by the deadline for such applications. Such applications will then be submitted all together by the Organizer to the fire station.
Please be aware that if even one company is slow to make its application or if it changes the details of its application, this may impact the application for all exhibitors.

・Other regulations relating to fire and dangerous items that need to be strictly followed are based on the Exhibitor Manual.
Displays containing copied or counterfeit products are prohibited